How To Self-care During A Snow Day
12.09.2021
Hey there Bell Tower Beauties! 
I guess the groundhog wasn't lying…snow, snow and more snow. We get it 2021, you're trying to outdo the year before…the one that shall remain nameless. Hopefully better weather is on the horizon but while we're all still in this never-ending winter season I want to share how I've mastered the stuck-at-home snow day and tips from Bell Tower on how you can recharge your body to prepare for Spring.
My favorite way to start the day is with an antioxidant-packed drink to boost energy, because let's face it – staying on top of daily vitamins and nutrition regimens can get hard when you have a million other things to do and remember, so I add one packet of berry flavored M'Lis Daily Antioxidant to my glass of water.
These on-the-go stick packs contain over 20 superfoods that support healthy skin, the immune system and mental focus. It also gives me a morning boost so after I lay out my yoga clothes, I'm motivated to get started and take on the day! These new tie-dye joggers just arrived at Bell Tower and you can also get the matching pull-over. BONUS: our Bell Tower yoga tanks are now on sale! 
By now the snow is steadily falling and I take a moment to listen to what my body is actually craving…a soothing, tension-relieving bath. If you don't get the chance for bath soaks often and I could only tell you one thing – it would be to add magnesium bath flakes any time you get the chance to!
Absorption of magnesium through the skin will provide so many therapeutic benefits for muscle aches, cramping or inflammation and it promotes healthy sleep habits. Forget epsom salt, Naturopathica Sweet Birch and Magnesium Bath Flakes is my #1 go-to for recharging stiff muscles. Even a short foot soak with these flakes will significantly improve your day! After this heavenly bath I apply Naturopathica Lavender Bath & Body Oil all over to hydrate the skin. You can even add a few drops of this oil to your bath to add a refreshing and soothing aroma.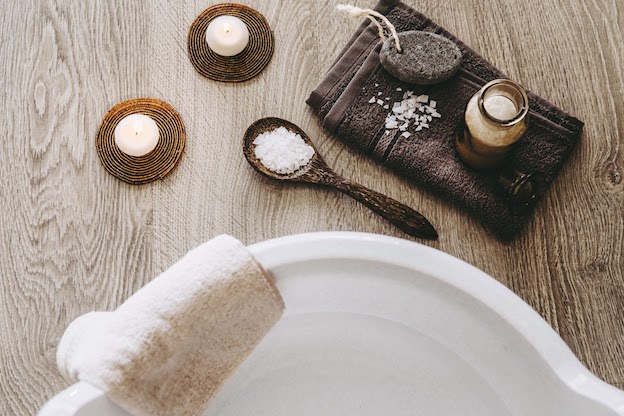 When your body is feeling completely relaxed it's time to slip into a soft Bell Tower lounge set (available in black and in white) and lush XOXO slippers. I mean there's no sense in putting on jeans if a snow day calls for staying home. Light a Les Ruches organic candle and let the powerful, calming aroma fill the room.  Beeswax produces negative ions as the candle burns so it's also purifying the air.
Grab a cozy chenille knit blanket and settle down for a delicious cup of Naturopathica Stress Tea. This schisandra and chamomile tea is amazing at fighting stress. I also add several drops of Naturopathica Nettle Respiratory Tincture to help clear any chest congestion.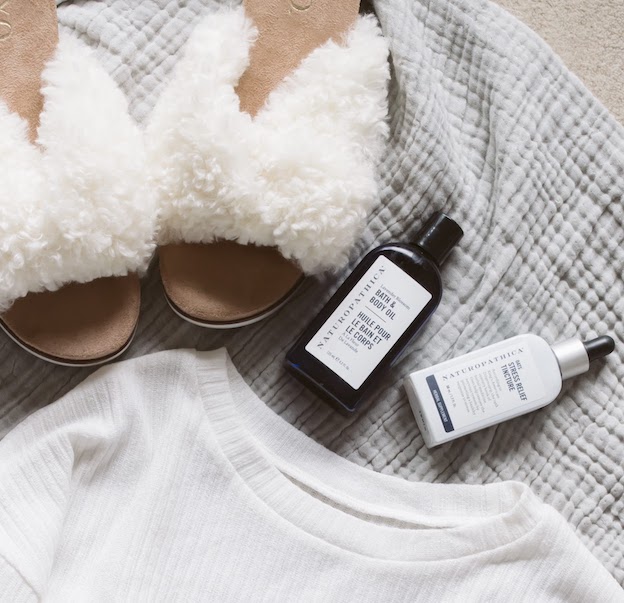 Creating the perfect snow day at home is simple with the right winter self-care products, but if you want to fully recharge your body and get rid of stored toxins, a detox wrap is essential. Schedule an appointment and try our new Mud Detox Wrap! This relaxing body treatment begins with a dry brush exfoliation followed by a detoxifying mud application and hot towel wrap. Not only does it firm the skin and tone the body, this treatment also relieves aching joints, eases inflammation, and helps to flush out toxins from the body.
And if you want to take your spa experience to the next level, add on the infrared sauna session. Doctors use infrared every day in hospitals around the world to help with pain, heal skin conditions, increase flexibility and generally help heal the body. Heating the body from inside can improve the immune system and reduce the incidences of cold & flu. These are great treatments to get your body prepared for Spring.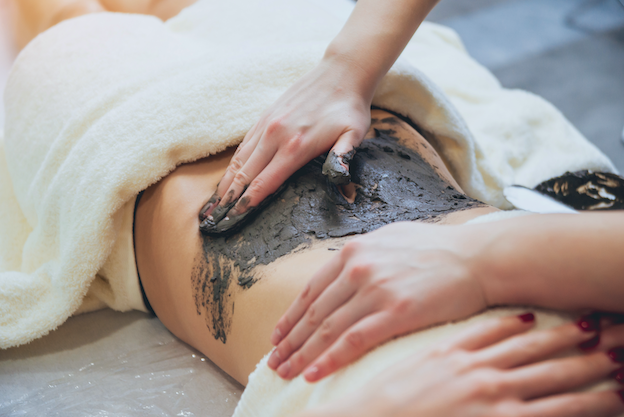 Text/call 610-372-6379 to schedule your spa day getaway or conveniently schedule online here. And don't forget your friends and loved ones who could use a spa treatment pick-me-up! Bell Tower gift cards make the perfect birthday or special occasion gift. Purchase Bell Tower gift cards in-store or online and have it sent directly to the recipient.
And if you aren't already, make sure to follow us on Instagram and Facebook for new styles, sales, and promotions.