Bell Tower Holiday Guide
12.06.2022
Hello and happy holidays Bell Tower Community!
It's that time of the year again and Bell Tower Salon Spa is here to help you check off the rest of your Christmas shopping for you and your loved ones. Here is a quick Bell Tower Holiday Guide to help ensure your holidays are extra jolly!

 


Gift card promo
Give the gift of relaxation and rejuvenation this holiday season! For every $100 guests spend on Bell Tower gift cards, receive an additional $20 in Bell Tower Bucks to use in the new year. Bell Tower wants to spread the gift of treating yourself this Christmas.
This gift card promo is valid through 12/31/22. Bell Tower Bucks may only be redeemed from 1/1/23-2/28/23.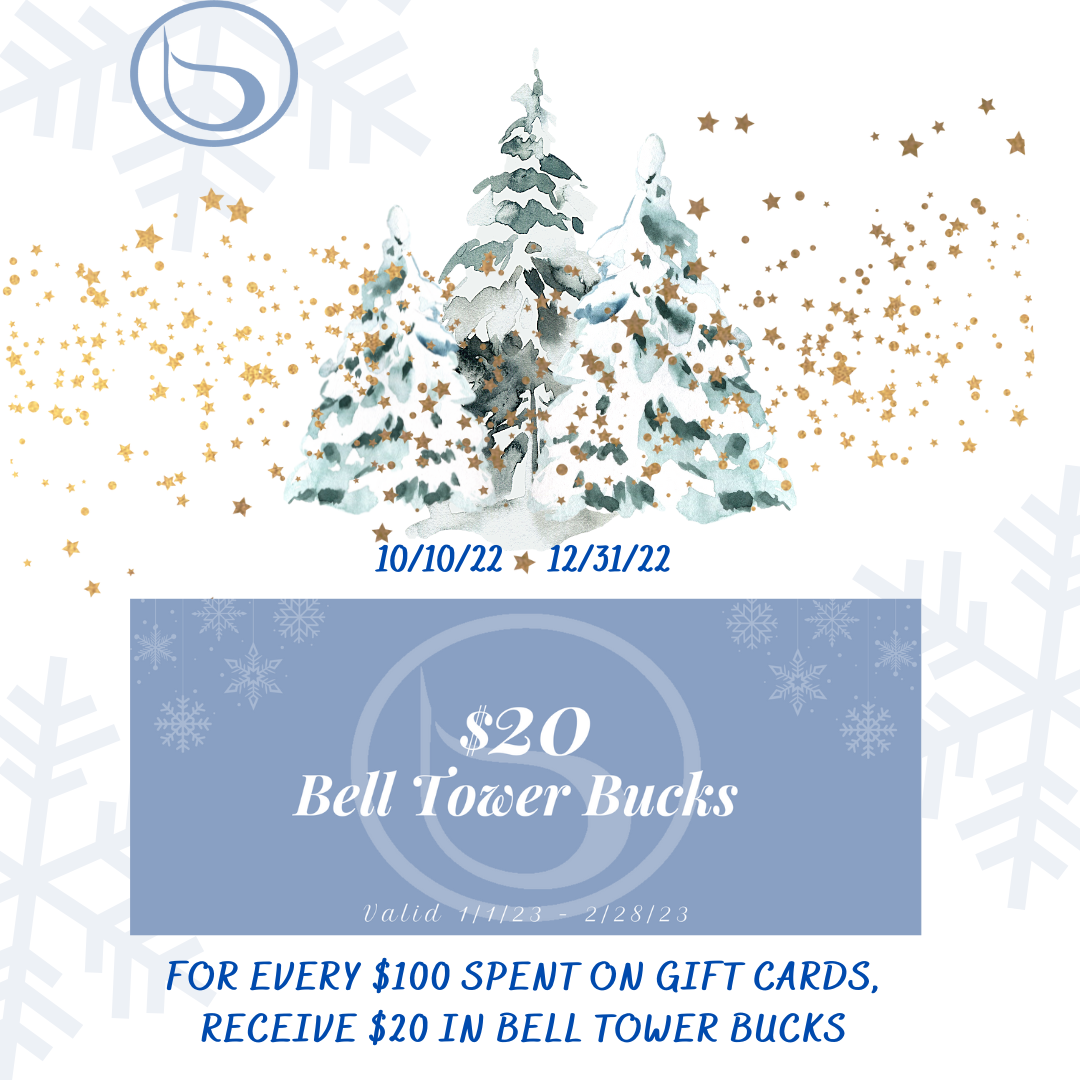 Buy more, get more
We want our guests to look and feel fabulous for their holiday festivities, so we are running a buy more, get more promo on all our Oribe, Kevin Murphy, Eufora, and Yonka products while supplies last. 
Oribe
-Spend $150, get 1 free full-size Oribe product
-Spend $250, get 2 free full-size products
-Spend $350, get 3 free full-size products
Guests will be able to choose from four Oribe product(s) at checkout as their free item, including: Oribe Gold Lust Dry Shampoo, Oribe Maximista Thickening Spray, Oribe Gold Lust All Over Oil, and Oribe Gold Lust Nourishing Hair Oil.
*PROMO RUNS WHILE SUPPLIES LAST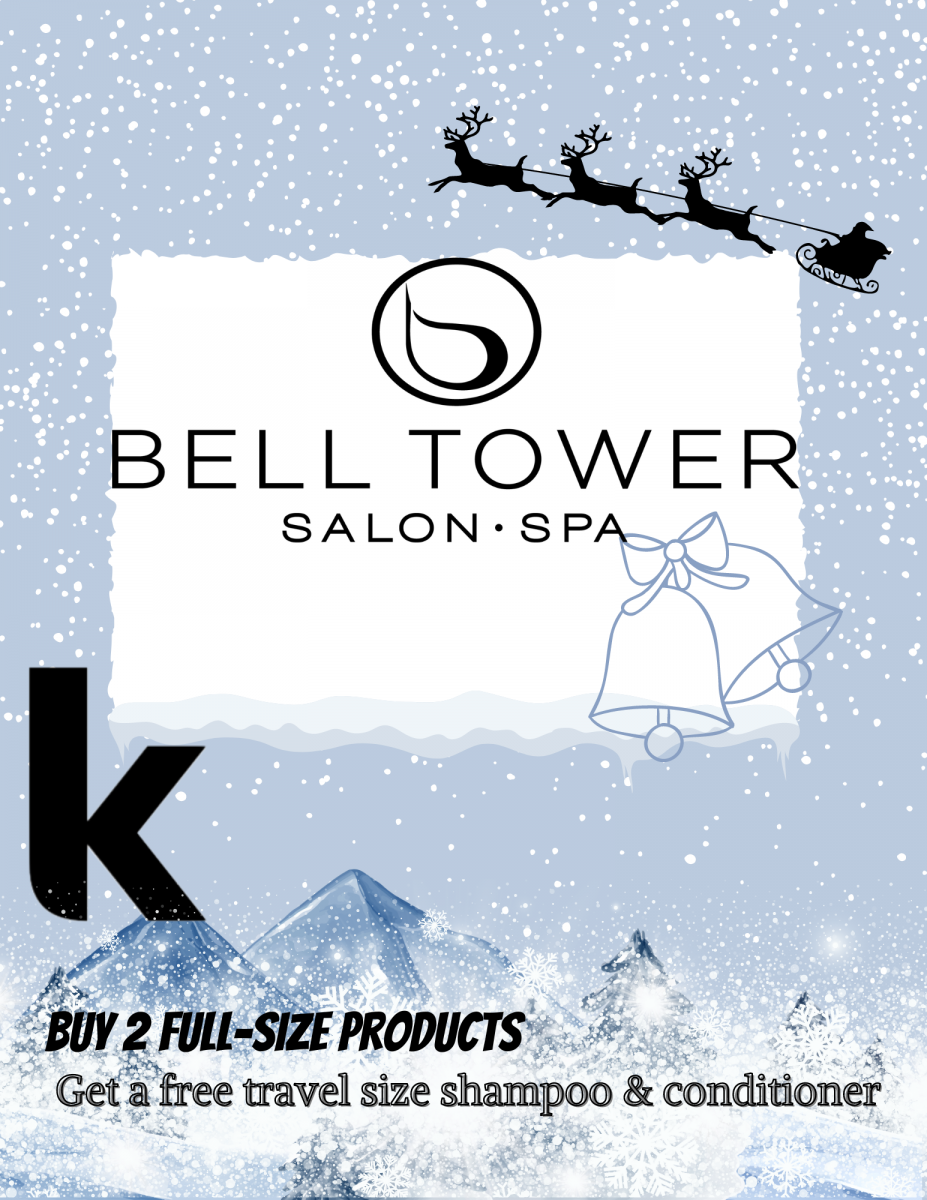 Kevin Murphy 
Take Kevin Murphy with you on the go! Purchase any two full-size Kevin Murphy products and receive a free parting gift— travel size Kevin Murphy shampoo and conditioner to leave your hair silky and hydrated during your holiday travels.
*PROMO RUNS WHILE SUPPLIES LAST
Eufora
Need an extra stocking stuffer? Any Bell Tower guest who purchases two full-size Eufora products will be gifted a free Eufora travel kit! This kit has all your hair styling essentials, including: Eufora Style Finishing Spray, Eufora Style Styling Glaze, and Eufora Style Shine Mist for your on the go needs.
*PROMO RUNS WHILE SUPPLIES LAST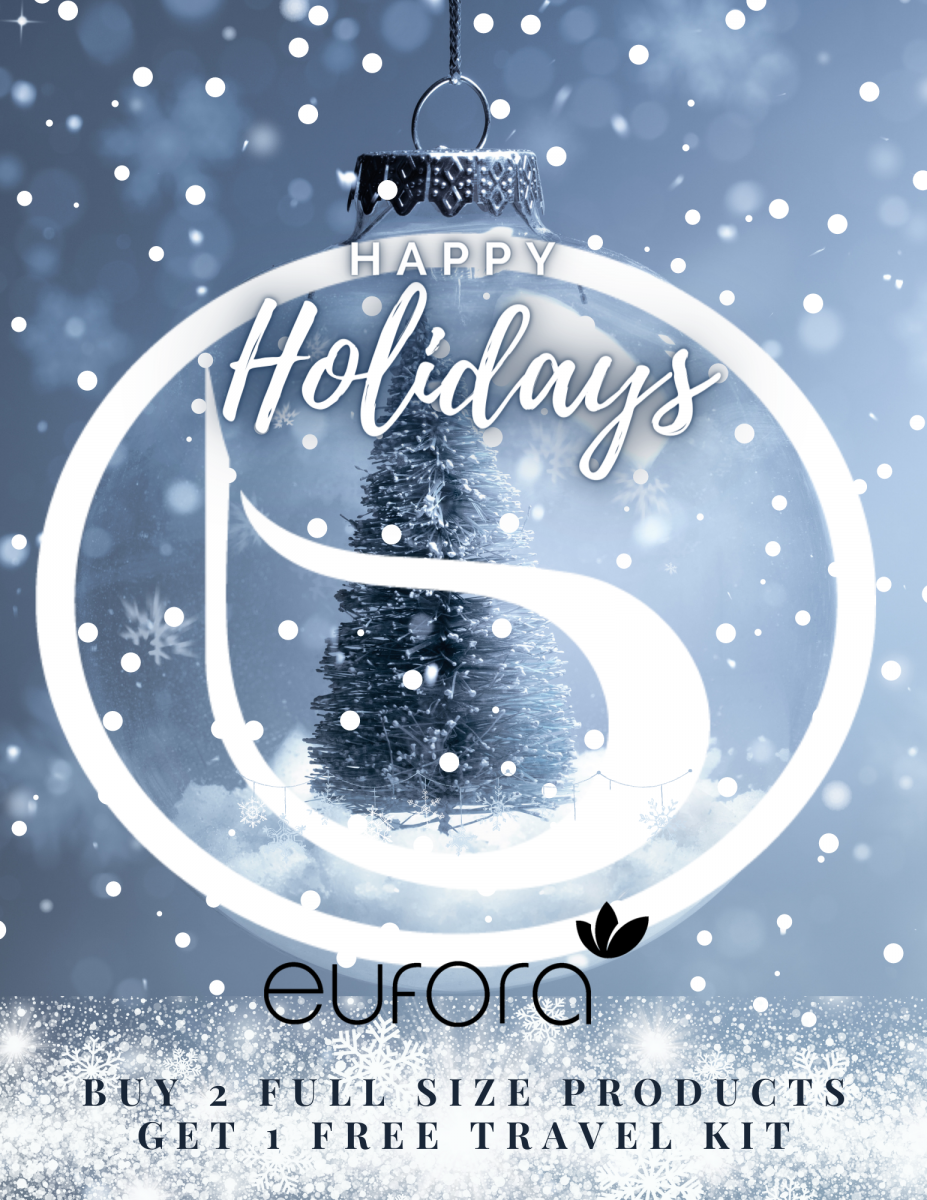 Yon-Ka 


Keep your skin hydrated this winter with Bell Tower's Yonka Paris products made for dry skin. Buy any two full-size Yonka products and get 1 Yonka Dry Skin Toner Mist for free!
*PROMO RUNS WHILE SUPPLIES LAST

 
Holiday pop-ups
At Bell Tower we love to support small businesses and encourage our guests to shop small this holiday season! We are currently holding holiday pop-ups through the week leading up until Christmas! Thank you to all our amazing vendors who have come out so far: Art Plus Gallery artist, Martha Ressler, NicMarie Designs, Ciccio's Olives, L Squared Permanent Jewelry, VOID Soap, and The Chic Bohemian.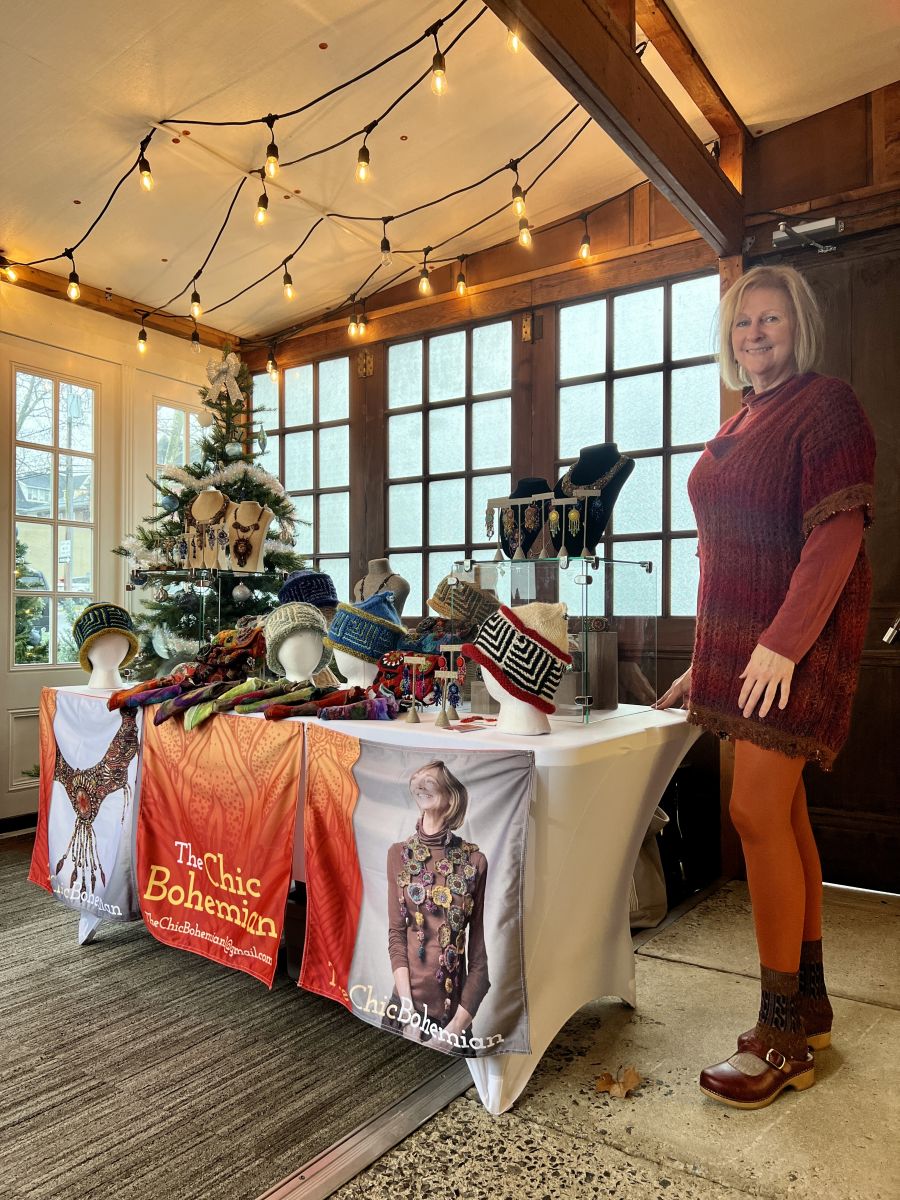 Check out all our upcoming pop-up dates below:
12/7: Art Plus Gallery Artist Marie Stalnecker (11AM-4PM)
12/13: Art Plus Gallery artist, Kelsey Showalter (11AM-3PM)
12/14: Art Plus Gallery artist, Karen Weber (11AM-3PM)
12/15: L Squared Permanent Jewelry will be back! (4PM-8PM)
12/20 & 12/21: Art Plus Gallery artists Peter Leach and Tim Kravatz (11AM-3PM)
12/22: NicMarie Design (11AM-7:30PM)
Refer to our socials for more info!
12 Days of Bell
We want to thank our Bell Tower guests for their continued business and support over the past year by giving back with our 12 days of Bell Instagram giveaway! Starting December 12 and running through December 23, we will be giving away a variety of products sold in the retail portion of our salon. The rules are simple— to enter the giveaway you must like the post, tag 3 friends in the comments, and repost the giveaway to your story for a chance to win! Here are the goodies you could possibly win:
Day 1: 30% off a 50 min. Custom Results Facial 
Day 2: Oribe Limited Edition Dry Texturizing Spray 
Day 3: Large Illume Balsam & Cedar candle valued at $65
Day 4: Eufora travel kit and Eufora Elevate Finishing Spray
Day 5: Yon-Ka gift set: Lotion Yon-Ka Dry Skin Toner Mist, Yon-Ka Essential Cleansing Gel, Yon-Ka Age Defense Hydra N°1 Hydration Serum, and Yon-Ka Age Defense Hydra N°1 Repairing Masque valued at $275
Day 6: Free seasonal mani & pedi
Day 7: $100 Bell Tower Salon Spa gift card 
Day 8: Kevin Murphy Angel Rinse Liter Shampoo & Conditioner set
Day 9: Oribe gift set: Oribe Limited Edition Dry Texturizing Spray, Structure Spray, & Maximista Thickening Spray valued at $135
Day 10: $100 Bell Tower Salon Spa gift card 
Day 11: Oribe Hair Alchemy Gift Collection valued at $165
Day 12: Couples Escape Package valued at $230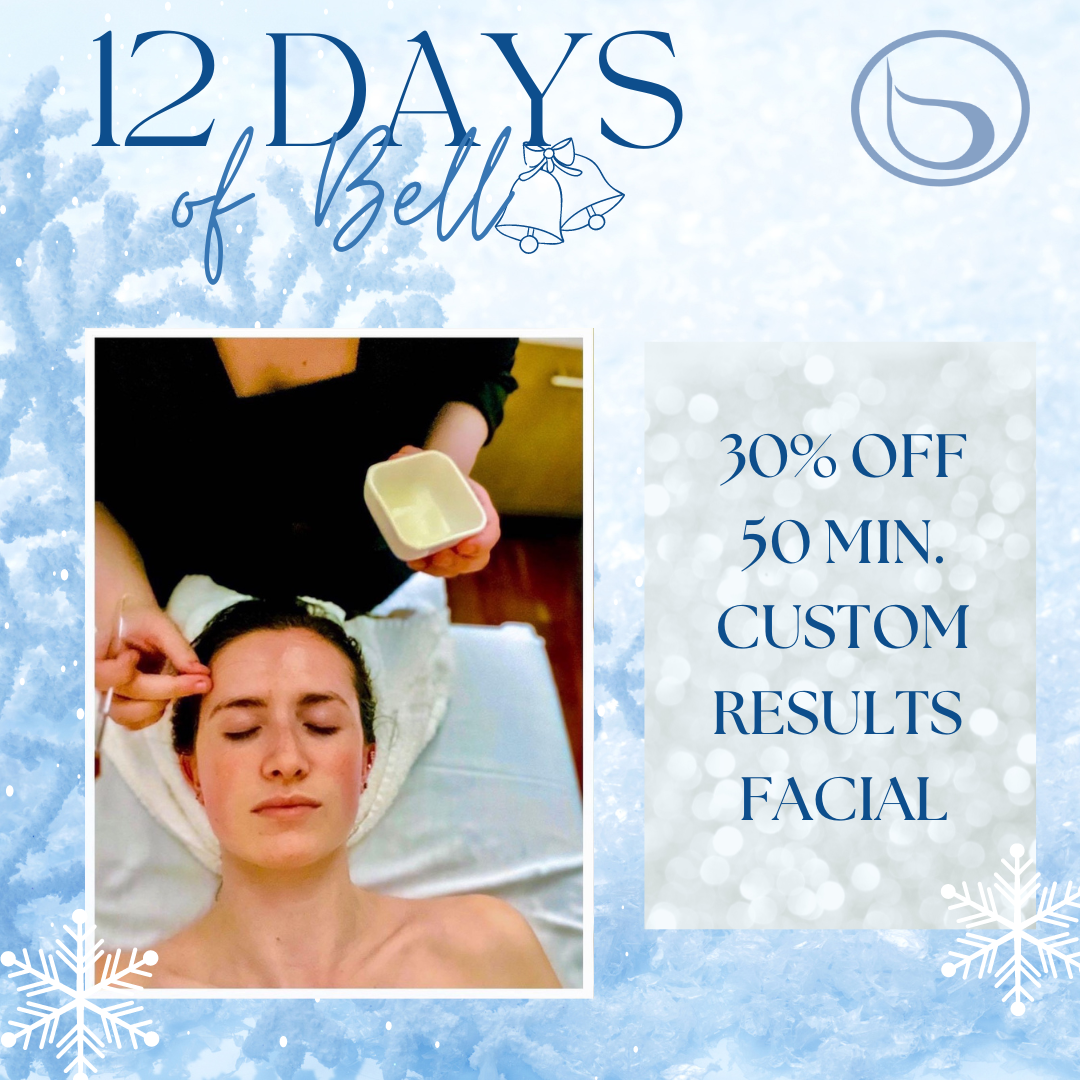 You're not going to want to miss this! Make sure you're following us on Instagram @belltowersalonspa and turn on those post notifications to get notified when the latest giveaway is up! Best of luck and happy holidays from the Bell Tower family!